Volunteers
Volunteers wanted for Eleven Cities Bicycle Tour!
The Frisian Eleven Cities Bicycle Tour has hundreds of volunteers. On Whit Monday there are around 750. They are managed by a regional manager, coordinator or police officer to ensure a smooth tour. During the preparation, several volunteers are active, for instance, performing the enormous amount of administrative duties. During the Whit weekend itself the duties are more organisational. The duties of the volunteers include the following: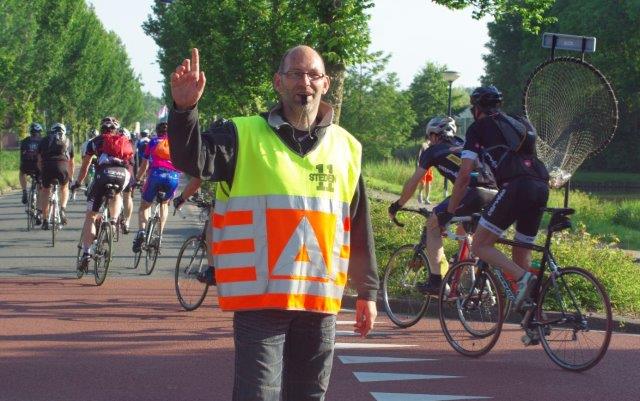 traffic warden (supporting the police controlling traffic)
parking attendant in Bolsward (controlling participants' parking)
starting inspector (assuring a smooth start in Bolsward)
stamping officer(at the start as well as the checkpoints)
attendant (directing participants to the start or en route, etc.)
logistic help (replenishing checkpoints, foraging participants and organisation, etc.)
finish inspection officer (taking and checking tickets and finish cards, handing out medals)
route attendant (supervising route, sweeper vehicle, etc.)
Fortunately, every year more than enough people volunteer for these duties. But new volunteers are always warmly welcomed. This enables working in shifts, so we can spread the load a bit more. Are you interested in offering a helping hand during the Whit weekend, please register with the registration form below and send it to us.
Naturally, you can drop us a note at: Fietselfstedentocht, Marktplein 1a, 8701 KG Bolsward, the Netherlands.

First aid is the responsibility of the Frisian First Aid Association (EHBO Fryslân), the Dutch Red Cross and the Dutch Association for Sports Massage. Technical support is performed by the Eleven Cities Bicycle Repair team.
Together, we make sure that 15,000 cyclists can tour along the eleven Frisian cities on Whit Monday! We hope we can count on you!
The efforts of all of our volunteers is priceless, but as a token of our appreciation every volunteer receives €15.00 and a small gift for every duty they fulfil. In addition, we organize a fantastic party for all the volunteers once every five years.
Available documents

A5 flyer nieuwe vrijwilligers
(289.79 KB)